A System for Issuing and Providing Electronic Passports in the Republic of Peru
IN Groupe and THALES (formerly Gemalto) consortium designed the new Peruvian biometric passport and rolled out the full issuing system beginning in 2016.
The objective was twofold: to launch a highly secure passport and to set up a decentralised document issuing system.
This passport presents strong security features such as: exclusive watermarks, micro-letters, inlays and UV, iridescent and secure inks. Twenty-three sites throughout the country carry out the procedures for enrolment, personalisation and instant issuing of passports. This passport received the 'Best ID Document' award at the 2016 High Security Latin America congress.
Client needs
Develop a secure, fast and reliable solution:
Have a system for issuing biometric, secure and reliable passports to facilitate the mobility of Peruvian citizens and to combat identity fraud.
Implement a decentralised system for issuing biometric passports.
Provide a highly secure and personalised biometric passport for Peruvian citizens.
Have European visa requirements lifted for Peruvian nationals.
IN Groupe's response
IN Groupe and THALES (formerly Gemalto) have deployed the enrolment and issuing system at 23 sites in Peru.
The consortium ensures the secure management of enrolment data, which is based on:
An Automated Fingerprint Identification System (AFIS), Public Key Infrastructure (PKI), ePassport personalisation, the implementation of an emergency data centre and quality management and access control for the entire document ecosystem.

IN Groupe has designed and manufactured biometric passports with more than 80 security features.

IN Groupe and THALES (formerly Gemalto) have also trained the employees of the Superintendencia Nacional de Migraciones on operating and managing workstations, on the AFIS system and passport personalisation and on maintenance.
Client benefits
Launch of the first highly secure biometric passport for the Republic of Peru.

Creation of an instant (under 30 minutes) biometric passport issuing system at 23 sites in the country in accordance with international and ICAO security standards.

This passport, which has significantly increased the mobility of Peruvians, has enabled the Republic of Peru to access the European Visa Waiver Programme as of 2016 and has given Peruvian nationals the opportunity to travel without a visa in the Schengen area.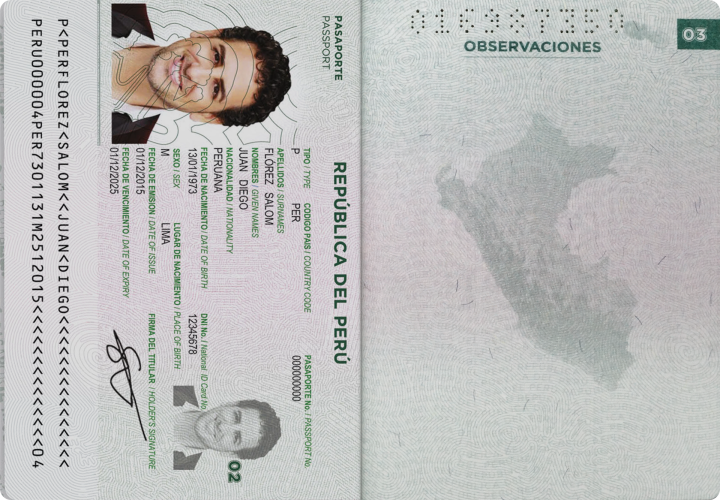 why IN GROUPE?
We defend your right to be You!
IN Groupe is a global leader and specialist for identity and trust solutions. With nearly 500 years of experience, we offer state-of-the-art identity solutions and secure digital services that integrate electronic, optical, and biometric technologies to the French government.
IN Groupe, along with its affiliated brands, provides comprehensive solutions that address all identity challenges faced by public and private enterprises to guarantee that everyone can benefit from digital transformation in a simple and secure manner.
The Right to Be You  
IN Groups helps people, organizations, and governments to secure their identities through physical and digital solutions.
IN Groupe worldwide
IN Groupe is a worldwide company with offices in Africa, Asia, North America, and South America which enables close customer support. 
Leading specialist in identities
IN Groupe develop innovative solutions, physical and digital, for governments, organizations, and citizens to assert their respective sovereignties.
Handling data security for global companies
IN Groupe is a leading specialist in identity and secure exchanges while also handling data security for global companies.