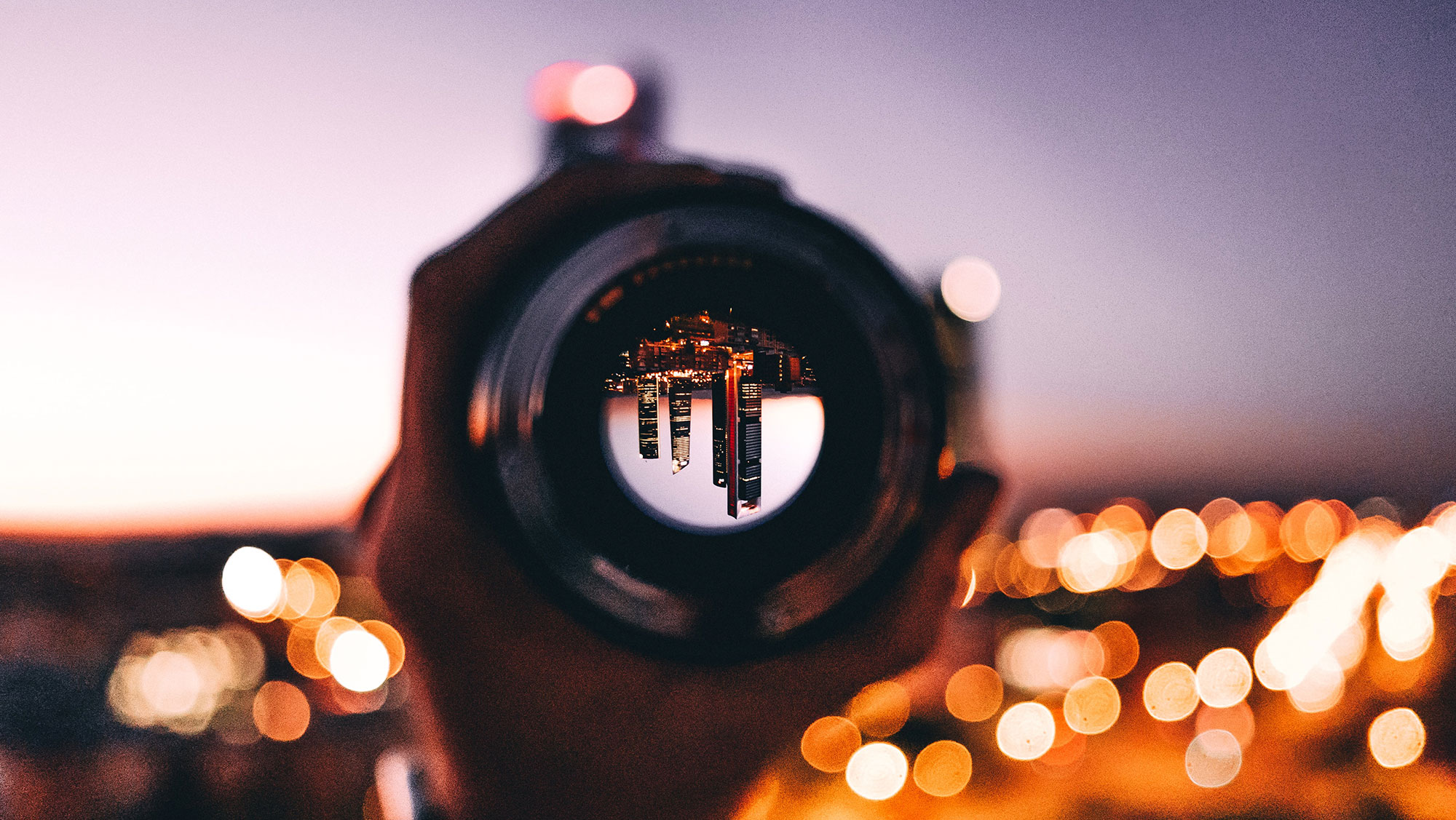 Innovation at the service of identity and trusted exchange
The world is changing, bringing about major shifts in terms of mobility, data protection and technologies. To respond to these new challenges, IN Groupe, a global expert in identity and specialised digital services, has adopted a dynamic innovation strategy, serving governments, citizens and businesses.
IN Groupe puts innovation at the heart of development
At IN Groupe, innovation is not just about high stakes but is rather something that is intimately tied to the very history of IN Groupe. Innovation is an integral part of our development. It is what gives us pride of position at the intersection of problems related to the structuring of modern society: a position of a pioneer, capable of imagining and offering cutting-edge technological solutions based on scientific advances that take centre stage from an application, technology, and market point of view.
At IN Groupe, innovation stems from a policy of bold anticipation. Our approach, which is based on Civic Tech and GovTech technological services for citizens, results in solutions that render public services more accessible and efficient, while ensuring a level of security that reinforces democratic linkage. It is an approach that is concretised through research in numerous fields, such as identity and the impact of digital life, cybersecurity, smartphones and mobility, IoT, and smart transportation – including autonomous vehicles.
Our promise to the market: Privacy and Security by Design
IN Groupe delivers identities and digital services that integrate ease of use with a very high level of security, while respecting users' personal data. This international expertise, in keeping with our promise of privacy and security, is based on interoperable technologies that are open to their ecosystem.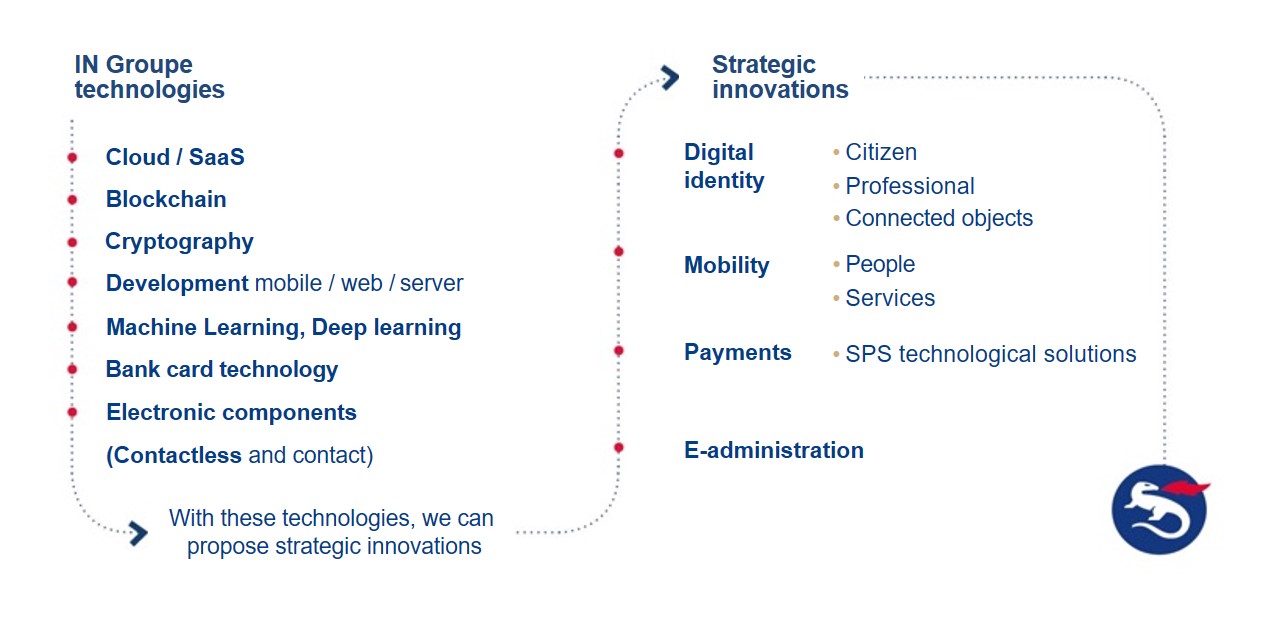 IN Groupe technologies
Cloud / SaaS
Blockchain
Cryptography
Development mobile / web / server
Machine Learning, Deep learning
Bank card technology
Electronic components (Contactless and contact)
With these technologies, we can propose strategic innovations.
Strategic innovations
Digital identity (Citizens / Professionnal / Connected objects)
Mobility (People / Services)
Payments (SPS technological solutions)
E-administration
Thinking ahead to protect individual identities
IN Groupe's Innovation Department relies on the very high level of expertise of its teams to tackle the major questions facing identity in the future. What technological solutions can be devised to better detect and combat deepfakes? How can we prepare the company of the future? How can we better protect individual identities and enable them to survive over time, even over centuries? IN Groupe has committed its R&D know-how to designing tomorrow's solutions today.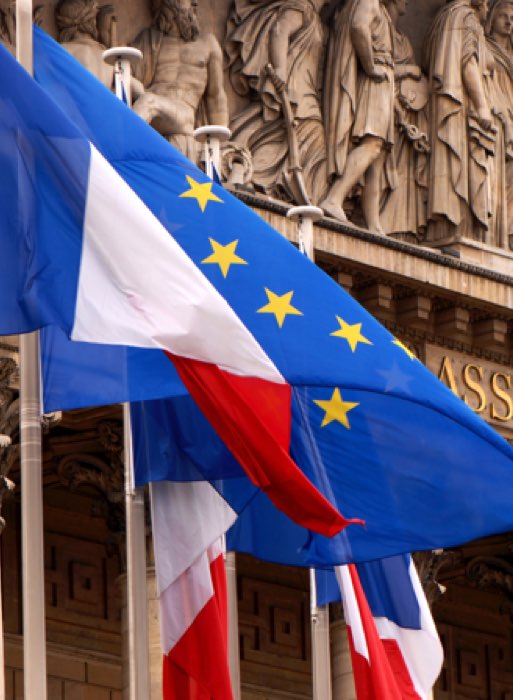 A collaborative, open and efficient methodology
The ideation process
We stimulate our collective creativity to foster the emergence of new ideas.
Design thinking
We manage innovation through a collaborative and iterative approach (diverge, converge, iterate).
"Agile" organisation
Some of our teams dedicated to developing complex projects, use the Scrum working method (including Scrum Master, Product Owner).
Creativity rooms
Within these specially arranged collective spaces, everything is designed with the aim of encouraging team creativity.
Open Innovation
To speed up the R&D process, we organise Hackathons and form partnerships with start-ups.
Creative challenges
Some projects lead to creative Runs for Killer App and Killer Picture.
Targeted innovation to meet market expectations
For IN Groupe, innovation, ex nihilo, is not enough. All our solutions are studied, developed and applied in line with specific market requirements. Our policy of innovation thus provides concrete, solutions for governments, companies and individuals, which can be immediately applied. Our methodologies allow us – notably through a process of experimental realisation (Proof of Concept) – to demonstrate the relevance, feasibility and durability of our solutions.
Innovating to protect data
As a trusted third party, and an identity provider recognised by law, IN Groupe contributes to the reliability and protection of its clients' digital assets. To do this, we have adopted a responsible approach, basing our actions on ethical principles to avoid both the concentration of identity data among a few parties, as well as attempts to monetise that data. In terms of data governance (collection and processing), we position ourselves in compliance with the General Data Protection Regulation (GDPR).