Passport data page photo: Color or no color?
Is color that important for the portrait on a passport's polycarbonate data page?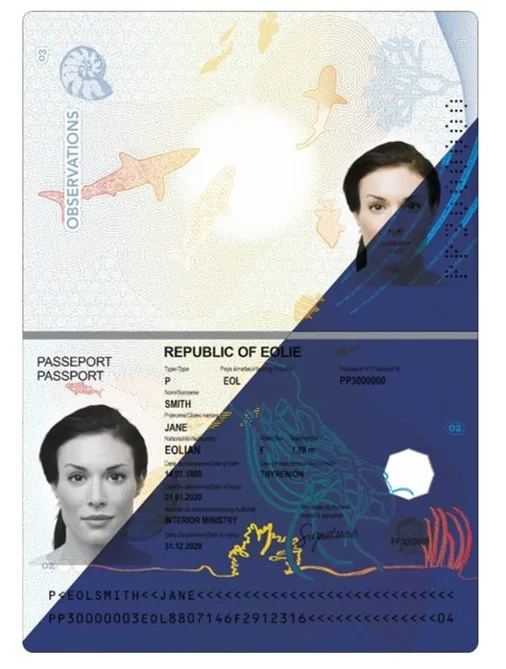 Over the last years, more and more countries decided to switch to polycarbonate for their passport's data page. The main reasons for such upgrades are additional security and additional durability – two things that are not always a necessary requirement as very often, good old security paper combined with a well-designed holographic laminate still gets the job done.
One consequence of a polycarbonate data page is a switch from colour to greyscale for the main portrait image. Control officers all over the world, have long been trained to authenticate such laser engraved photos, making life easier for them.
Is losing the colour a reality and an irreversible consequence of the migration to polycarbonate? We will see on the contrary that a strategy and a clear growing trend exist, based on moving the colour photo onto page 3 of the passport (or page 01, depending on the booklet numbering), while continuing to use the digital colour image secured in the chip. We believe that this is the best solution in order to combine security, independence and an optimised total cost of ownership.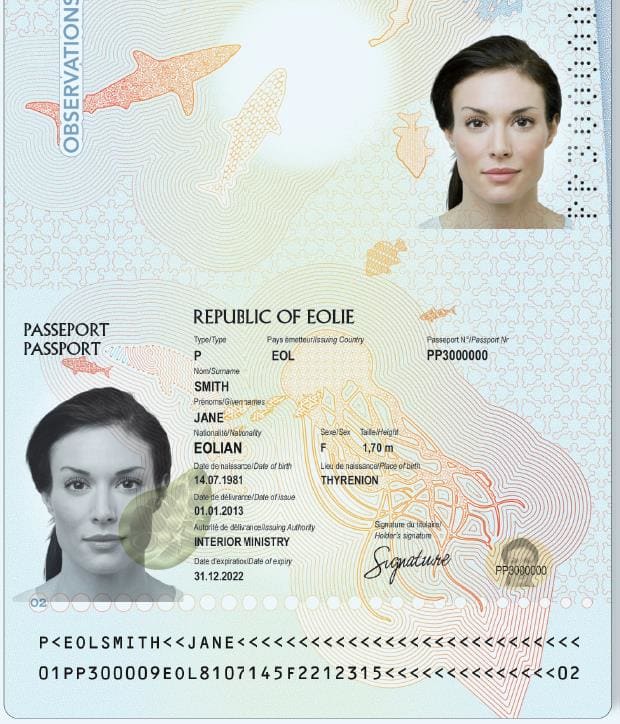 Example of an additional colour photo printed on page 3 (next to the datapage), a solution already adopted by more than 25 issuing authorities. Large size primary picture with B&W (greyscale colour) laser and large size additional portrait (photo) with colour inkjet technology.
Additional color photo on page 3: The best concept for security, independence and an optimized total cost of ownership.
Today, a very limited number of passports (less than five) have a polycarbonate data page with a colour photo for the main portrait image. Such a feature seems interesting at first sight because it makes the passport booklet a little more unique and brings some additional security.
However, is colour that important for the portrait on the polycarbonate data page? Here are some facts that we at IN Groupe would like to highlight:
In the field, very few countries have adopted a colour photo for their polycarbonate data page; and market demand for the promoted technologies remains very low, if you question the experts involved in giving their technical recommendations based on the pros/cons reasoning for integrating such a security feature.
The colour photo of an e-passport is already available in the chip, protected by cryptography; it can be quickly displayed in high-resolution on the border control screens – in addition, most smartphones can now read e-passports using near-field communication (NFC) technology.
Laser engraving in grey scale brings high resolution, contrast and sharpness, which is essential to ease inspection in the field by agents.
Face colour is not a criteria (a feature) used for automated border controls and remote ID verification (using biometric matching) – and in fact, trained officers also focus on face shape instead of colour in order to make a comparison with the person and their portrait: space between eyes, shape of ears…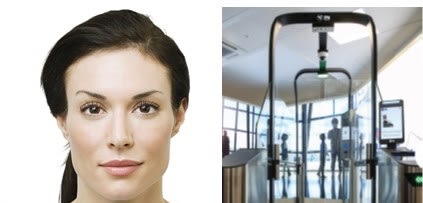 So, what if a "simple" colour photo moved onto page 3 (in front of the data page), combined with the grey scale photo, matched the market requirements (increased security, independence, balanced total cost of ownership…)?
Here are some of the main advantages of this security concept for a passport with polycarbonate data page.
1. Colour photo on page 3 brings additional security focused on the real needs of border control authorities:
An additional portrait image printed in large and with sharp colours meets the demands of border control authorities for high-quality photos, helping to detect ID fraud by look-alikes (impersonation). This is actually the main benefit brought by colour.
The International Civil Aviation Organisation (ICAO) recommends "biographical data printed on an inside page in addition to the data page", in order to make page substitution more difficult; ICAO also recommends to embed "additional portrait image(s) of holder" to make photo substitution more difficult*.
Document fraud experts recommend using an additional personalisation technology for the portrait (using different techniques makes forgery attempts more difficult).
A colour photo printed on page 3 is protected by chemical sensitizers (security paper) and a security printed background (ICAO recommendation), like on a visa label.
Additional security features can easily be combined with the printed colour photo, if necessary**.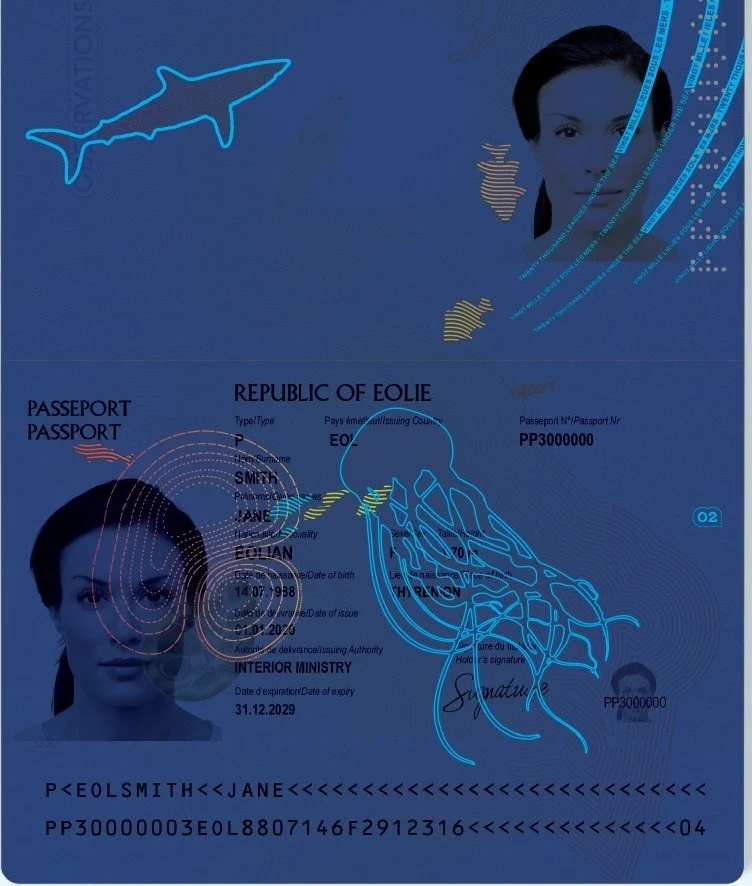 Like the main portrait image, the additional colour portrait should be protected with invisible UV fluorescent offset printing, a basic security feature according to ICAO recommendations.
2. Colour photo on page 3 is a guarantee of independence from patented technologies.
Several proven printing technologies are available and compatible with any e-passport booklet. The main suppliers of passport personalisation solutions are all able to offer machines combining laser engraving and colour printing for page 3. Therefore, there is no risk for customer lock-in and the blank documents provider can easily be replaced if need be, which is not the case with some colour portrait technologies.

Security – Independence – Low total cost of ownership
3. Colour photo on page 3 has an economic rationale.
First, it enables a seamless integration in both centralised and decentralised personalisation systems. Second, the total cost of ownership is relatively low, compared to other colour technologies (on the surface or inside the polycarbonate data page).
4. Colour photo on page 3 is a proven security concept.
Early 2021, more than 25 states already personalised a colour photo on page 3.
Conclusion
Switching to a passport with a polycarbonate data page does not mean that the colour portrait will be lost. Proven solutions exist to maintain a quality colour portrait and many states have already understood this. Therefore, it is not a coincidence if there is a clear growing trend toward large additional photo on page 3 (usually in addition to small-medium ghost images on data page) – nearly 15% of e-passports now embed this standard security feature (almost 25% of passports newly issued since 2016).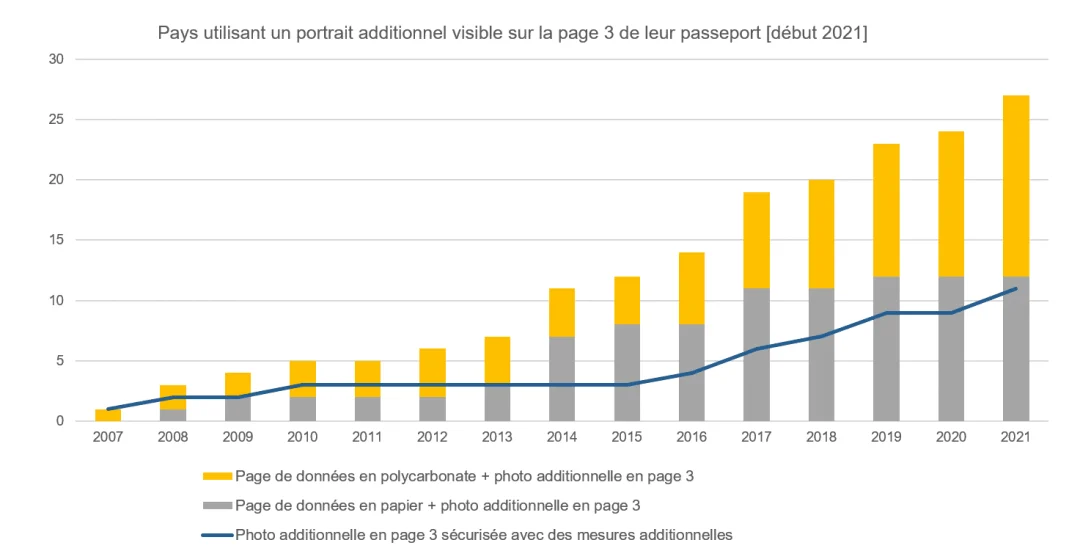 Note: at least six countries use an invisible UV fluorescent photo printed on page 3 and some "true colour" UV photo technologies are now available, allowing verification by control authorities with broadly deployed tools.
* See ICAO Doc 9303, Part 2 (Specifications for the Security of the Design, Manufacture and Issuance of MRTDs), chapter "A.5.5.2 – Substitution of whole pages" and chapter "A.5.4.4 – Protection against photo substitution and data alteration on the biographical data page of a passport".
** We recommend enhancing the security level of the additional portrait on page 3. Several types of security measures can be considered; for example:
Transparent & colourful holographic portrait (a level 1 personalised security feature, nearly impossible to counterfeit);
Portrait made of micro-text (level 2 feature, verification with a magnifier);
Portrait protection through digital technology (a guarantee of the authenticity of the portrait with data sealed into interoperable Visible Digital Seal);
Hidden information embedded in the portrait (level 3 security feature checked with a specific filter).