As the criticality of cybersecurity continues to rise, organizations worldwide are changing their approach to security services. Management no longer sees security as a static topic but rather a dynamic subject that can bring big threats if not handled properly.
ISG Provider Lens™ 2022 Cybersecurity - Solutions and Services: Quadrant Report
Identity and access management (IAM) and identity management (IdM) are often used interchangeably. In this study, IAM refers to all access authentication, controls, and governance of identity throughout its lifecycle, with less emphasis on the authentication methods.
In the report, ISG highlights the current market positioning of IAM providers in the Nordics, and how each provider addresses the key challenges faced in the region. "Nexus brings trust to the table when it comes to protecting identities in machines or non-machines," says Arun Kumar Singh, Lead Analyst.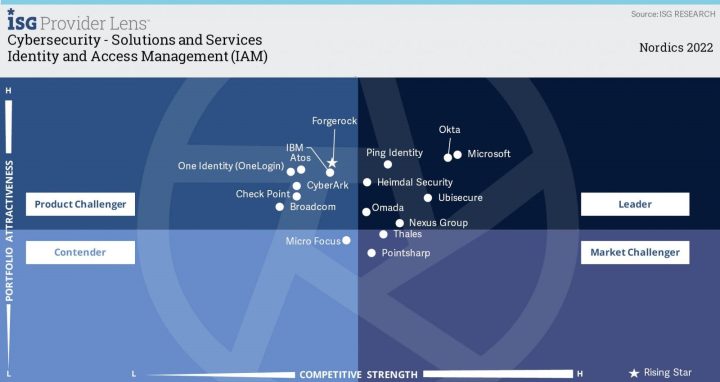 Methodology: 78 software vendors/service providers in the Nordic market were evaluated based on the following criteria: Strategy & vision, innovation, brand awareness and presence in the market, sales and partner landscape, breadth and depth of portfolio of services offered, and technology advancements.
About ISG Provider Lens™ Research

The ISG Provider Lens™ Quadrant research series is the only service provider evaluation of its kind to combine empirical, data-driven research and market analysis with the real-world experience and observations of ISG's global advisory team.
Enterprises will find a wealth of detailed data and market analysis to help guide their selection of appropriate sourcing partners, while ISG advisors use the reports to validate their own market knowledge and make recommendations to ISG's enterprise clients. The research currently covers providers offering their services globally, across Europe, as well as in the U.S., Germany, Switzerland, the U.K., France, the Nordics, Brazil and Australia/New Zealand, with additional markets to be added in the future. For more information about ISG Provider Lens research, please visit this webpage.
A companion research series, the ISG Provider Lens Archetype reports, offer a first-of-its-kind evaluation of providers from the perspective of specific buyer types.