Hub Pro Transport: Secure management platform for Driver Cards
Expand text
The Hub Pro Transport platform is a complete (software, hardware, business services), feature-rich, and mobile-friendly platform that covers the entire Driver Qualification and Tachograph Card management chain. It enables transport companies and ministries to benefit from an advanced solution to get the most out of their resources and optimize business operations 
The platform answers the regulatory challenges faced by road operators by delivering personalized and fully EU-regulation compliant tachograph cards, with state-of-the-art security features. The platform enables delivery of the 4 standard tachograph card profiles - driver, company, workshop, and control - in addition to ADR certificates and Driver Qualification certificates. The same platform also enables complete lifecycle management of the cards.
Provided as Platform-as-a-Service, ensures that the solution is continuously updated and enriched with new features and functionalities. The service is optimized for web and mobile to provide a smooth user experience and allows drivers to manage all credentials from a single account.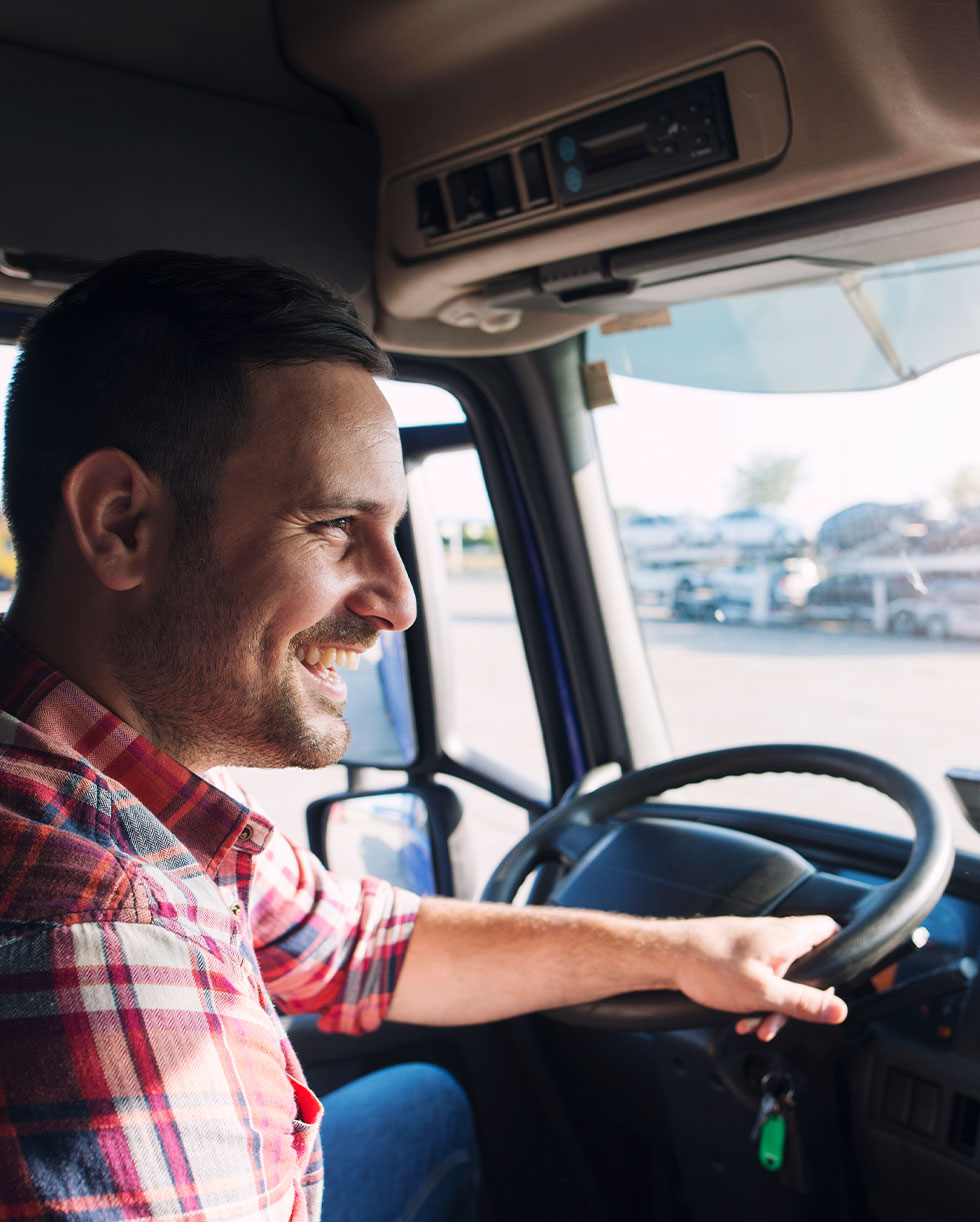 PKI security
PKI infrastructure and certification service to meet the highest security requirements
Card production and personalization
conducted within secure premises on a platform compatible with standards such as Gen1, Gen2v1, and Gen2v2
Business Process Operations
Support for BPO operations for the platform, with highly skilled personnel

Tachograph Card and Driver Qualification Card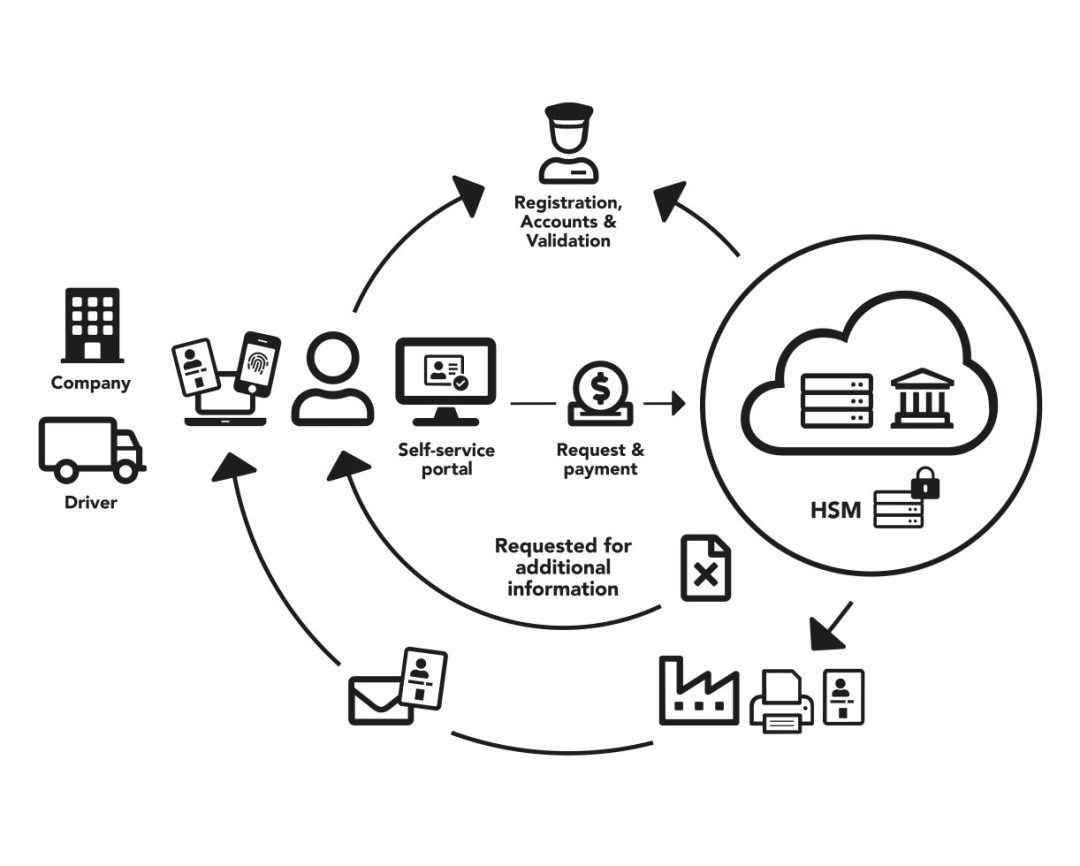 One platform for all driver & administrative needs
Onboarding: Support enrolment, account creation, role management, and card production
Multi-title management: Can be used with tachograph cards, driver qualification cards, and ADR (Agreement International Carriage of Dangerous Goods by Roads)
Credential Lifecycle Management: Manage requests, activation, and card replacement and deletion
Payment management: Available options include payment by bank transfer, credit cards, cheque, PayPal, and more
Traceability: Offers complete audit traceability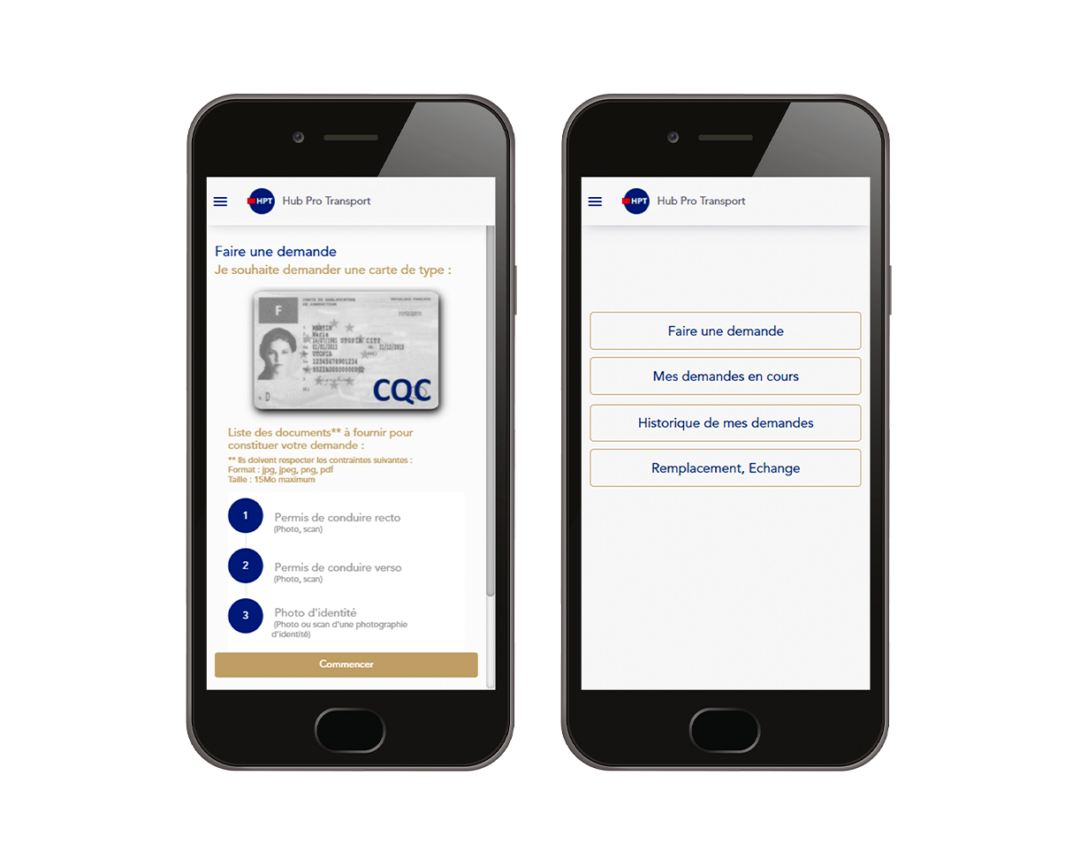 One go-to platform already in use by The French Ministry of Transport
Hub Pro Transport combines multiple services and tools to enable administrators and drivers to have one go-to platform for requesting and managing their professional cards.
The French Ministry of Transport uses the Hub Pro Transport as their main Tachograph Card Management platform, which can easily be adapted to other European countries. 
Address challenges beyond tachograph card management with Hub Pro Transport Connect
IN Groupe is a trusted digitalization partner with proven expertise in not only the transport sector but also in digital identities, wallets, and more.
It offers a solution, Hub Pro Transport Connect, that addresses challenges beyond tachograph card management to deliver a single, comprehensive platform to meet European Commission Mobility Package requirements and electronic freight transport information (eFTI) regulation approved and coming into adoption in 2024.
Hub Pro Transport Connect, a complete digital solution, helps transport and logistics professionals beyond tachograph card management to address challenges such as: digital ID of its partners, secured data exchange, interoperability, simplified usage, competitiveness, and decarbonization.
Digital ID Management
Digital ID to all professionals (physical and digital authentication), on various platforms such as eFTI, Transport Management (TMS), etc. to carry out simplified procedures.
Mobile Wallet & Verifiable Credentials
Securely store all the digitalized documents (e-CMR, mobile driving license, etc.) in one place and share them with different departments (driver, truck, cargo, etc.) on request.
Digital ID & Data Verification
Control app (iOS, Android, API, Portal web) for verifying authenticity from different securities and documents dematerialized (contained on the mobile wallet).